Model number: KG521.M
---
Features ⇣
The rich fragrance of freshly ground beans holds the promise of an exceptional cup of espresso. The Dedica Stainless Steel Conical Burr Grinder with a digital LCD display and 18 variable settings for espresso, drip coffee/pour-over and French press, you can customize your grind like a professional. Grind a single espresso directly into the portafilter, or grind up to 14 cups and keep them fresh in the included storage container.
Premium metal-wrapped finishing
2.1 inches digital LCD display
18 variable grind size (Espresso, drip coffee/pour-over and french press)
Coffee ground storage container of 170g
Bean hopper capacity of 350g
Aroma control function (light, normal, strong)
Up to 14 cups of continuous grinding
Removable upper burr
Brewing espresso-based beverages with the complementary Dedica Pump espresso coffee machine EC685. Complete the Dedica set and impress your guests with handcrafted lattes and cappuccinos, just like the cafes.
THE JOURNEY OF THE FRESH COFFEE
Having travelled thousand of miles from their origins and after a long coffee processing journey, it is now your responsibility to bring out the intended coffee aroma and flavours the farmers and roasters have created it to deliver. And the first step – is to ground your coffee beans freshly, just before brewing.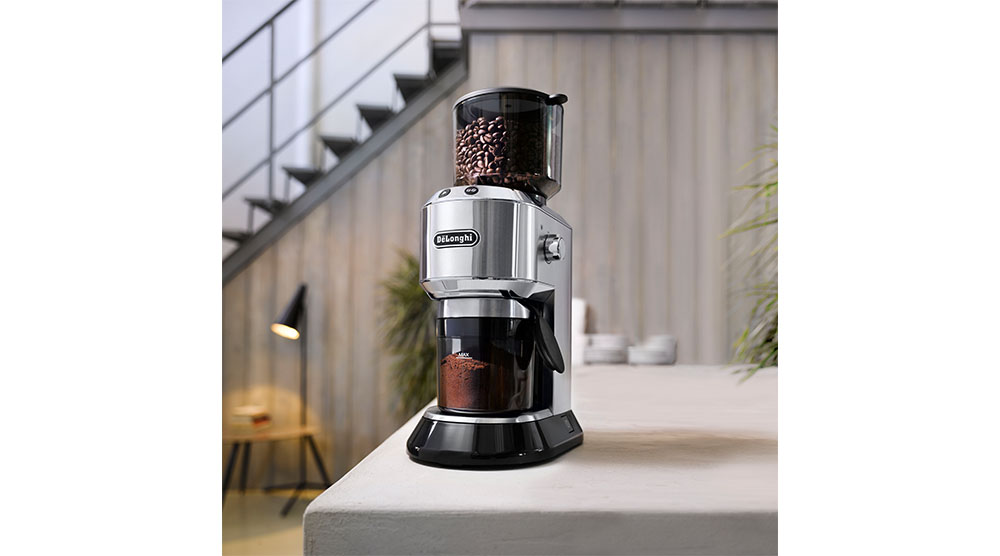 THE FLAVOURS AND AROMA
The main reason why you'll need a grinder at home is that the original flavours and aroma of your coffee beans will dissipate once it has been grounded. Therefore, it is important to grind only what you need just before brewing.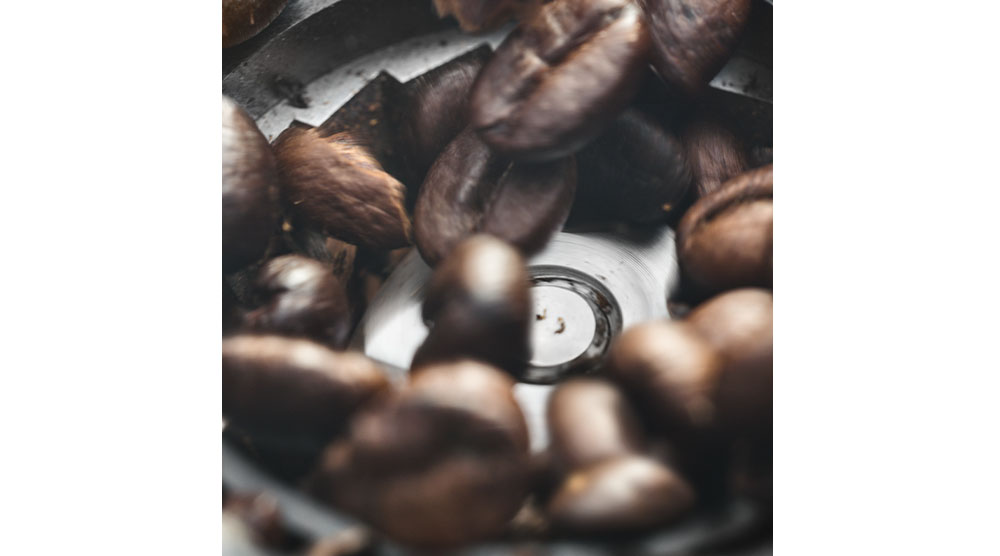 THE HEART OF YOUR GRINDER
The stainless steel conical burr grinder works in a way that preserves the oils and aroma from fresh coffee beans, maintaining the flavour and ensuring the grounds are uniform in size for consistent coffee results. With more than 18 adjustable grind settings, you'll have total flexibility to try different brewing methods.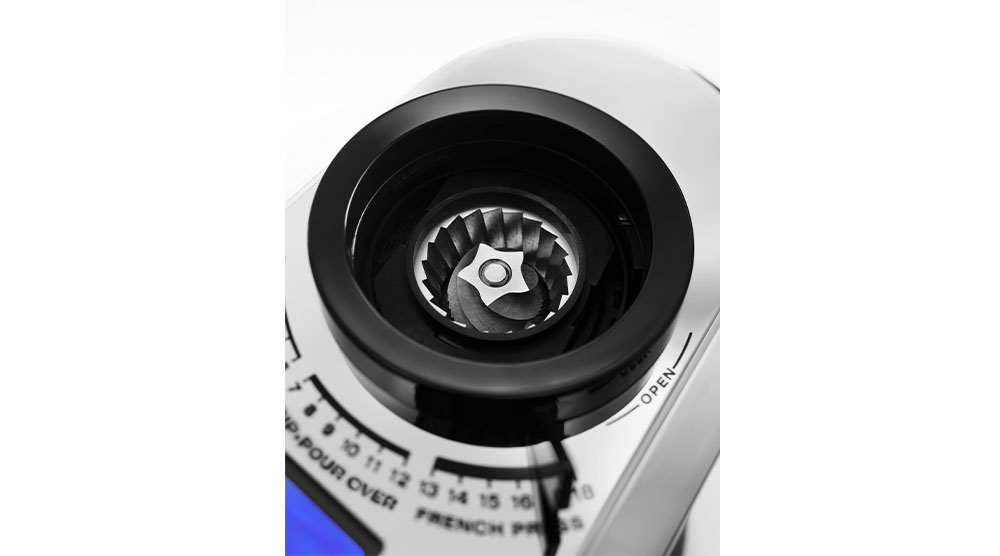 CUSTOMISING YOUR COFFEE
The coffee grinder comes with a 2.1 inch LCD panel which displays the number of cups and aroma strength for your selection. Choose your preferred taste with the Aroma function that doses different amount of coffee to suit your preferences. It also automatically senses if the bean hopper, container or filter holder has been attached and is programmed to dispense your shot accordingly.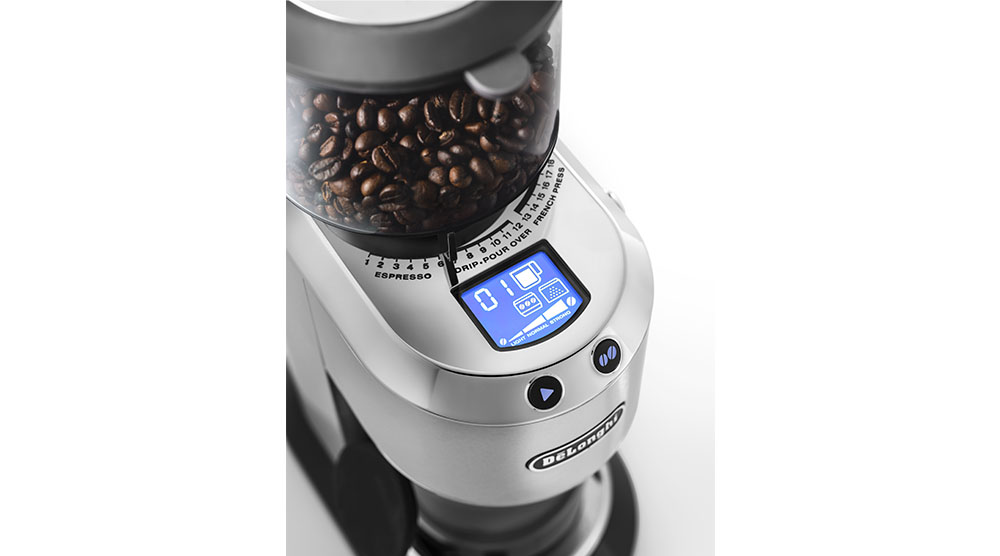 SHARING YOUR LOVE OF COFFEE
Brewing a batch or for a bigger group of guests is simple with the bean container that can hold up to 170g. Whether you're using it for french press or drip coffee, you'll be able to grind it to your desired quantity and fineness.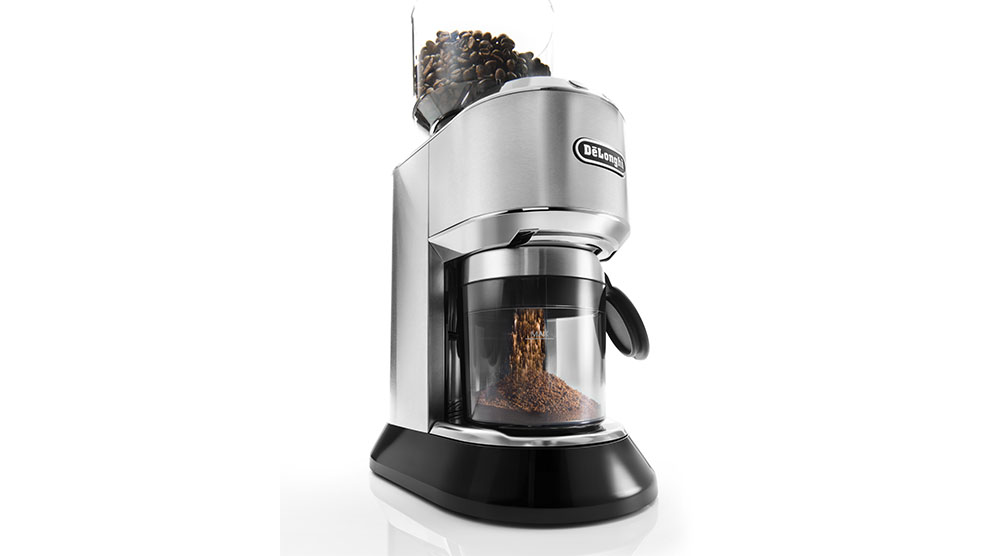 PERFECT COMPATIBILITY
If you're using the Dedica Style Pump Coffee Machine EC685, you'll be able to fit your porta filter into this holder which allows the grinder to automatically dispense 1 portion of ground coffee. This thoughtful feature is perfect for single dose servings and reduces any unnecessary wastage.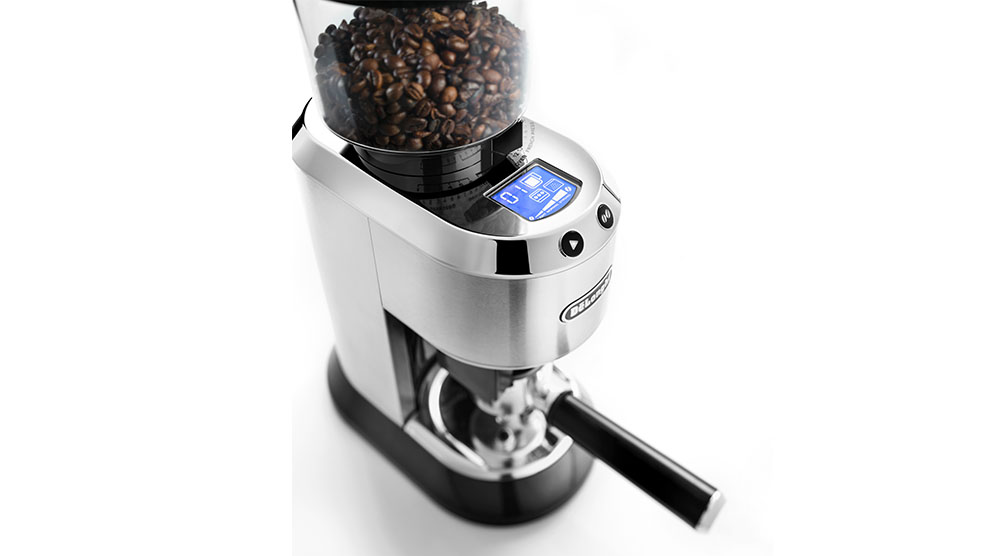 DESIGNED FOR YOU
To keep your grinder in its perfect working condition, cleaning can be done easily by turning the regulator clockwise to remove the burr. This intuitive feature is designed with your safety in mind for you to keep your machine clean so that it can last for a long time.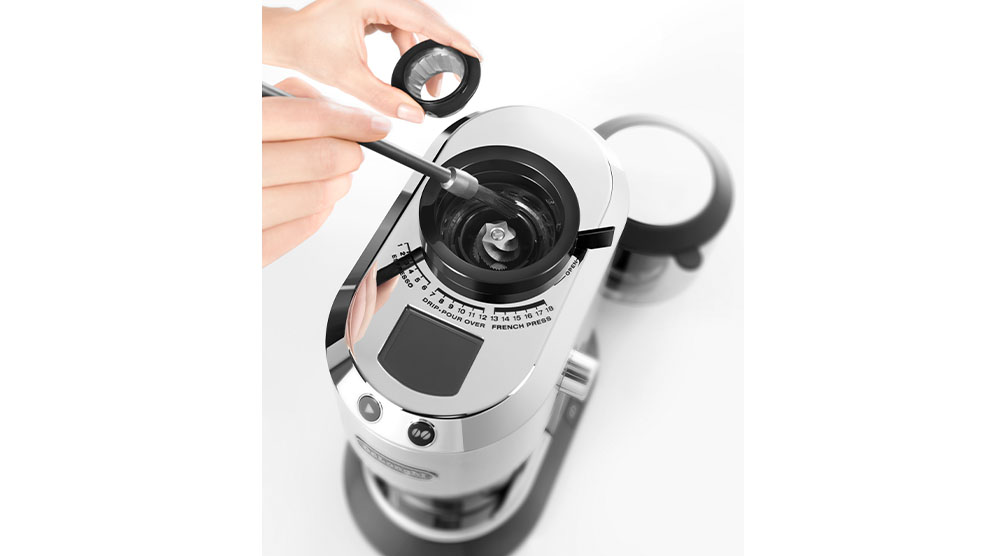 Programmable Timer
Grinding time can be programmed with the portafilter accessory.
18 grind size settings for French press to Espresso brewing.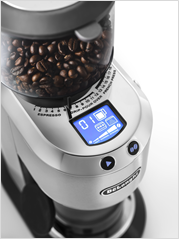 Selection Dial
Simply just turn the dial to select from Min: 1 cup, Max: 14 cups of coffee.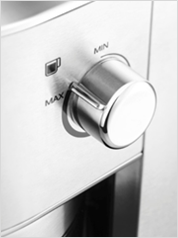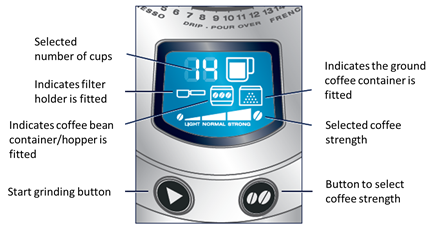 Dual Mode
You can choose to grind into the ground container or direct into your portafilter.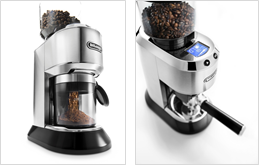 Easy to Clean
The stainless steel burr is removable for regular cleaning.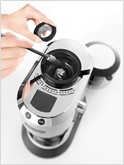 ---
Your Handcraft Coffee Journey ⇣
THE COFFEE LOVER'S FAVOURITE
If you're a coffee lover, you'll definitely want to craft espresso-based beverages where the possibilities of creations are endless. The Dedica coffee machine EC685 is the perfect entry-level manual pump coffee machine that'll satisfy your coffee desires. Complete your coffee set up with the Dedica collection in your coffee corner so you can start enjoying lattes and cappuccinos!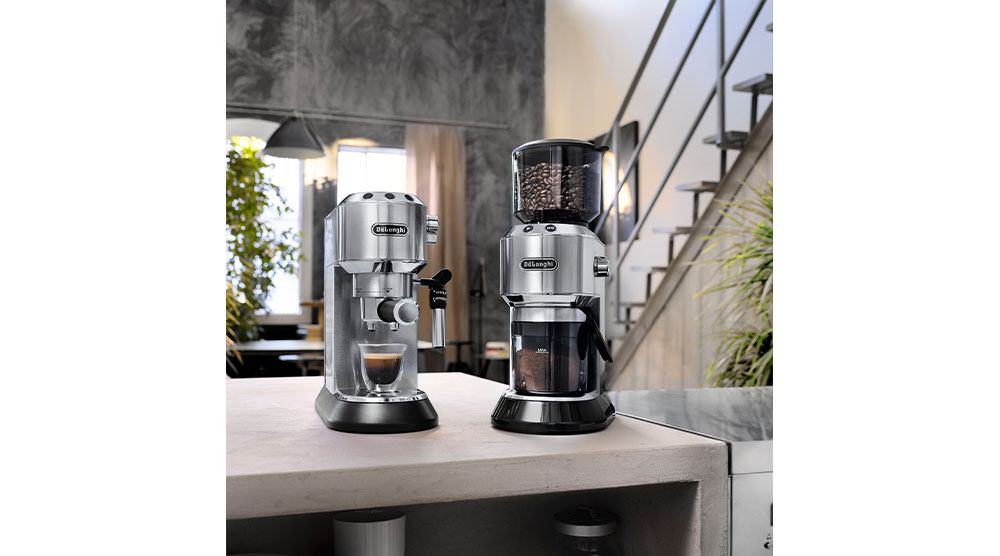 THE BREWING ESSENTIALS
Every barista has their own tools and accessories and here's what you'll need to start your coffee crafting adventure.
• Dedica coffee machine – For making espressos-based beverages.
• Whole coffee beans – For optimal freshness and flavours.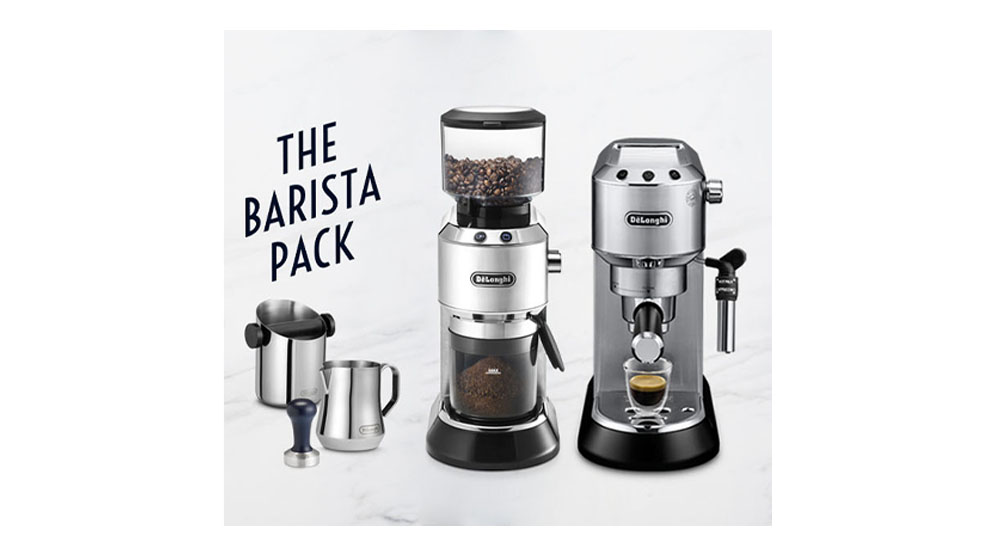 ---
Specifications ⇣
| | |
| --- | --- |
| Adjustable Grind Size | 1 up to 18 |
| Grinding Mechanism | Conical burr |
| | |
| --- | --- |
| Bean hopper capacity (g) | 350 |
| Coffee ground container (g) | 170 |
| Dimensions (wxdxh) (mm) | 240x154x382 |
| Input power (W) | 150 |
| Max. number of ground cups | 14 |
| Rated voltage/Frequency (V~Hz) | 220-240V / 50-60 Hz |
| Weight (net with accessories) kg) | 2.75 |
| | |
| --- | --- |
| Body material | Metal wrapped |
| Burr material | Stainless steel |
| Colour | Silver |
| | |
| --- | --- |
| Controls | Buttons |
| Display | Blue LCD display |
---
What's in the box ⇣
x1 Dedica Conical Burr Grinder
x1 Portafilter holder accessory
x1 Coffee ground container 170g
x1 Coffee bean container 250g
x1 Cleaning brush
[HOW TO VIDEOS]
Learn how to use your Dedica Conical Burr Grinder KG521:
- What's in the box
- How to programme grind settings
- How to grind into the filter holder
- How to grind into the coffee ground container
- How to clean your grinder